Company Profile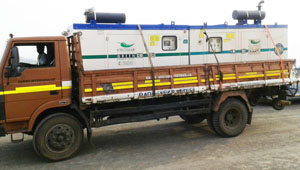 Mission statment
Our mission is to service & give quality gensets to the complete satisfaction of our customers. Our purpose has always been to benefit our customers through our sophisticated products and superb services.
Introduction
Garware DG Power was founded with the aim of providing complete power backup solution at an affordable price. The company's main line of business is supply Diesel Generators on rental basis. Garware DG Power symbolizes a company dedicated to the provision of innovative Engineering skills, each year witness's further application of the latest technology to its products innovation, reliability and total flexibility. For the last decade years, Garware DG Power has been involve not only in providing Power backup solutions, we have well equipped workshop with Innovative solutions for the custom tailored power support that helps us to Provide optimum power backup to our clients.
Nature of Business
Garware DG Power provides every facility under one roof as Supply, Installation &Transporation of Diesel Generating Sets on rental basis.
Garware DG Power's Goal
At Garware DG Power, we have the team of some of the finest professionals in the power solution business. Our goal is not only to maintain sustained relationship with them, but also to keep them constantly challenged. By being a dynamic and growing business, we have created a vibrant environment for our people and associates. By meeting customer's needs and challenging our people, we envision becoming preferred and the most influential power partners in India.
Garware DG Power don't just supply generators; Garware DG Power analyse several factors before choosing the most suitable equipment for the job in hand, such as:
Load Profile forecasts
Ease of operation
Transport & Logistical restrictions
Service intervals and importantly, fuel consumption.